Designing Gardens for Central California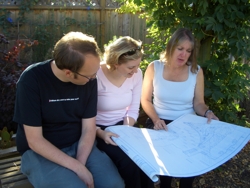 Sue Powell has designed vibrant, colorful gardens for clients in the Central Coast area for over 20 years. Her love of natural landscapes and beautiful flowers is a life-long passion. Sue is a California native, and her explorations of plant habitats, wildflowers, and creative gardens of the west coast have inspired her gardening philosophy and design goals.
Sue enjoys working with clients to define design criteria and to develop overall concepts for design projects. She has expertise in guiding the landscaping process from the generation of initial ideas to the collaborative creation of designs and reports and then to oversight for design implementation and installation.
Sue has extensive knowledge of style, ecological conditions, hardscape materials, irrigation, and best plant choices. She takes a comprehensive approach to projects and considers social uses of the landscape, opportunities for activity areas, light and shade conditions, and seasonal changes in color and form. Her goals are customer satisfaction and flourishing, richly textured landscapes.